The Open Box Project
5 – 9 September 2018
Nothing like a Monday that goes well! And that is exactly what we had on the 7th May at Siyazingisa Primary School in Gugulethu. We were delighted to do the first of three book handovers to the Grade R classes.
Siyazingisa is the focus of the Open Book School Library Project – OPEN BOX. Through this project we increase learners' and teachers' access to amazing books. The books remain in classrooms in mobile book units and as such can be used by learners and teachers through the day.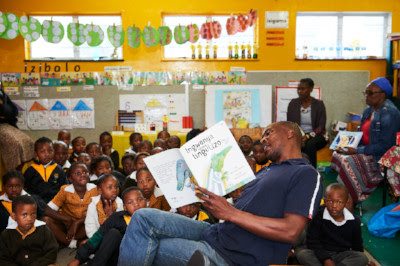 Our thanks to the teachers and principal at Siyazingisa for allowing us into their space and our thanks also to Book Lounge staff members, Lwandiso and Thandi for entertaining the children with great stories and activities!
And last but not least, thank you too to Verity Fitzgerald for donating her time to take such beautiful photographs!
If you would like to assist with the project, or would like any additional details, please get in touch with Frankie (frankie@openbookfestival.co.za).
Open Book Festival is organised in partnership with The Fugard Theatre, The District 6 Museum, The A4 Arts Foundation, The Townhouse Hotel,  The French Institute, The Canada Council for the Arts,The Embassy of Sweden, The Dutch Foundation for Literature, UCT Creative Writing Department, University of Stellenbosch English Department and Central Library and sponsored by Leopards Leap, Open Society Foundation, Pan Macmillan, NB Publishers, Jonathan Ball and Penguin Random House